Vol au Vents with Chicken / Vol au vents med kylling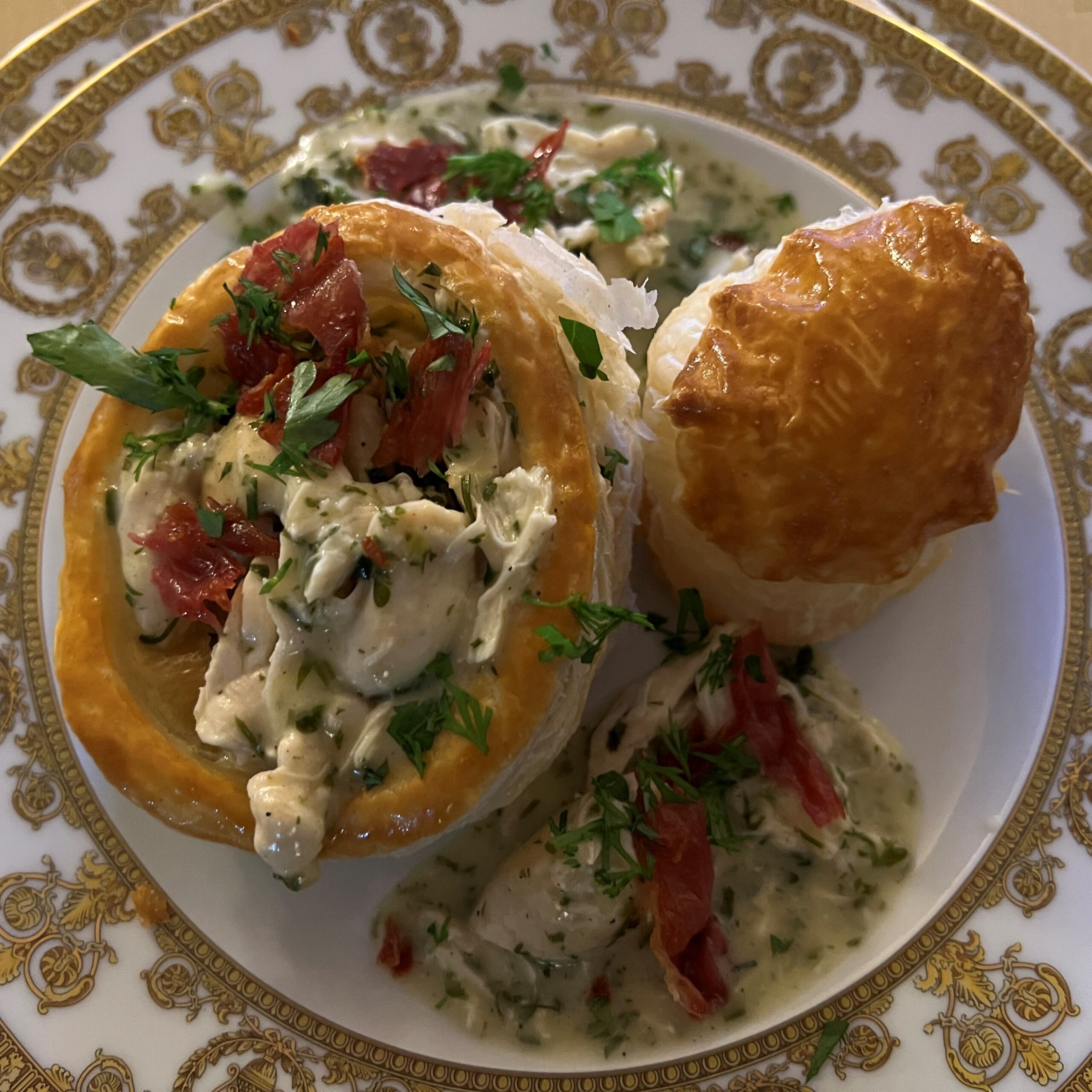 4 shells of puff pastry
3 chicken breasts
4 dl white wine
Flour
Salt
Pepper
Clarified butter
Thyme
Peppercorns
Chopped shallots
Bay leaves
2 dl double cream (or whipping cream)
Chopped parsley
Chopped chives
Chopped dill
Chopped basil
Bacon
½ lemon (only the juice)
1 teaspoon of beurre manié
Create shells (nests) from the puff pastry; give an egg-wash, and bake them for 10 minutes at 200°C.
Remove the skin from the chicken breasts, and turn the chicken in flour, salt, and pepper.
Fry the chicken in clarified butter.
Add the chopped shallots, peppercorns, bay leaves, and thyme, and let it simmer at a low temperature for 1 hour.
Remove the chicken, and peel off the skin.
Filter the sauce through a sieve with a muslin cloth; and add double cream and spices to the sauce.
Put the chicken back into the sauce, and pour it all into, over and around the vol au vents.
Add fried bacon and herbs.
4 butterdejsreder
3 stykker kyllingebryst
4 dl hvidvin
Mel
Salt
Peber
Klaret smør
Timian
Peberkorn
Hakket skalotteløg
Laurbær
2 dl piskefløde
Hakket persille
Hakket purløg
Hakket dild
Hakket basilikum
Bacon
Saft fra ½ citron
1 ts beurre manié
Butterdejen formes til reder, pensles med æg og bages i 10 min. ved 200°C.
Fjern skindet fra kyllingestykkerne og vend stykkerne i mel, salt og peber.
Kyllingestykkerne steges i klaret smør.
Hakket skalotteløg, peberkorn, timian og laurbærblade tilføjes, og retten simrer i 1 time ved svag varme.
Kyllingestykkerne tages op, og kødet pilles af.
Saucen filtreres i si med musselinklæde og tilsættes fløde og krydderurter.
Kyllingestykkerne lægges i igen, derefter hældes det op i og rundt om tarteletterne.
Pynt med stegt bacon og krydderurter.