Saumon Joséphine / Saumon Joséphine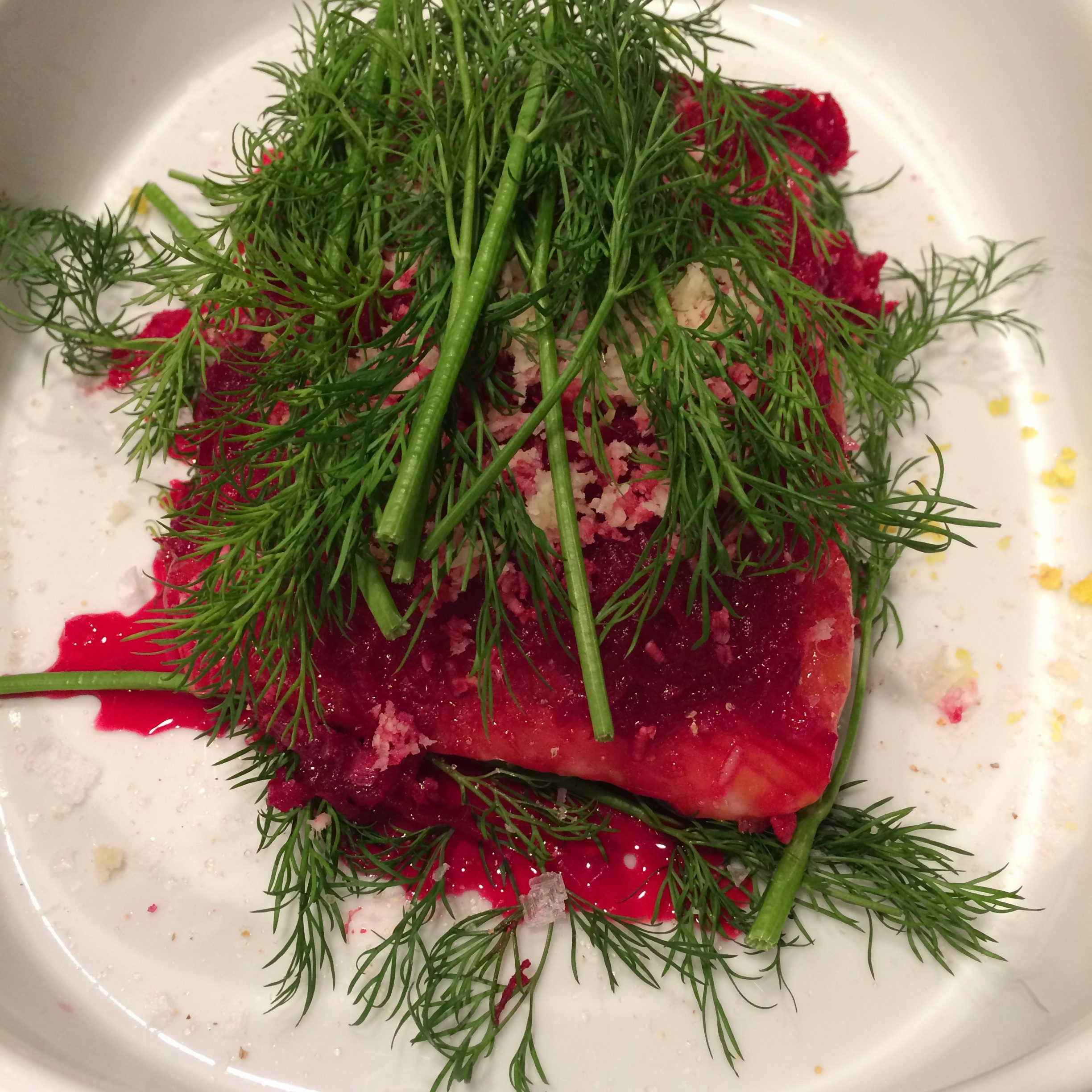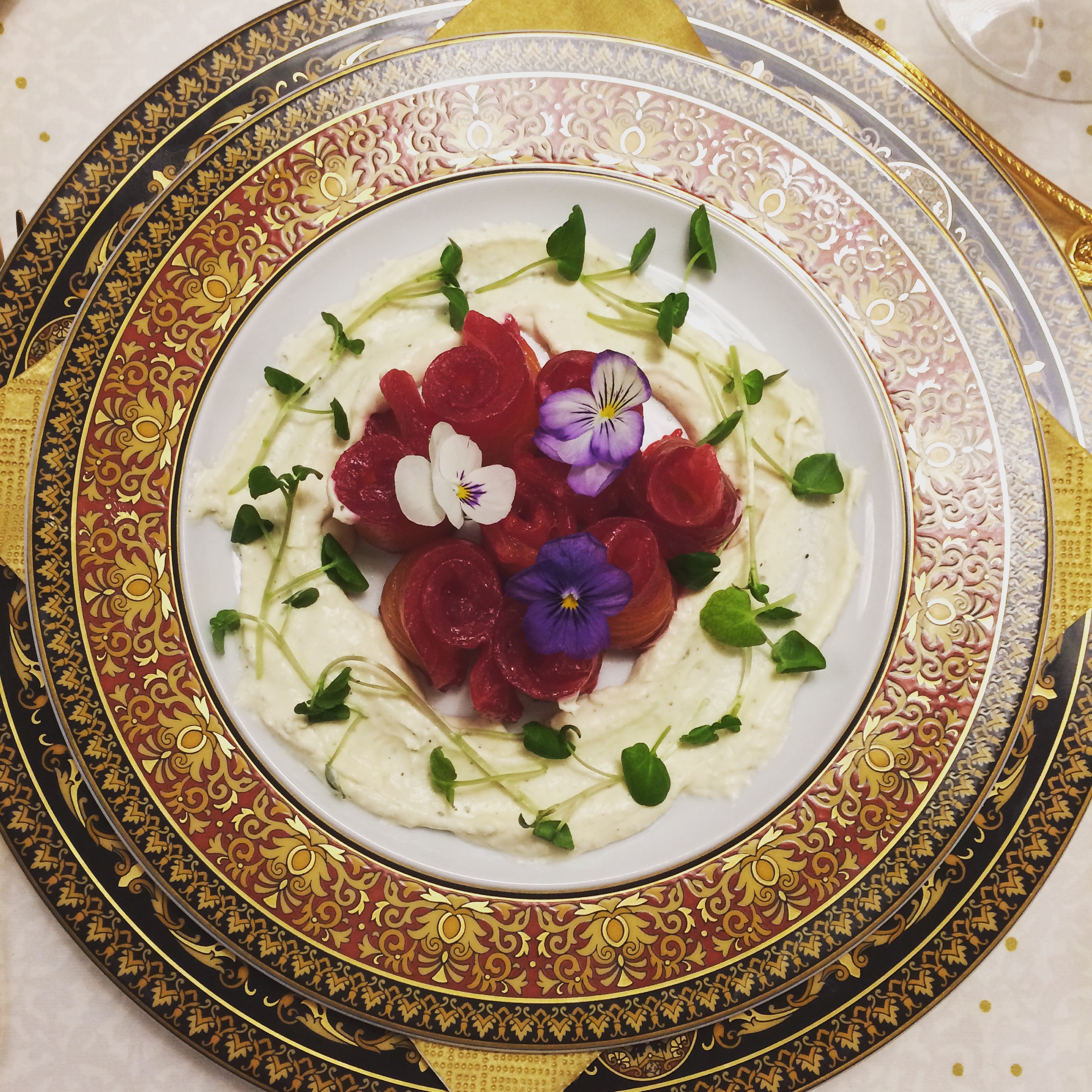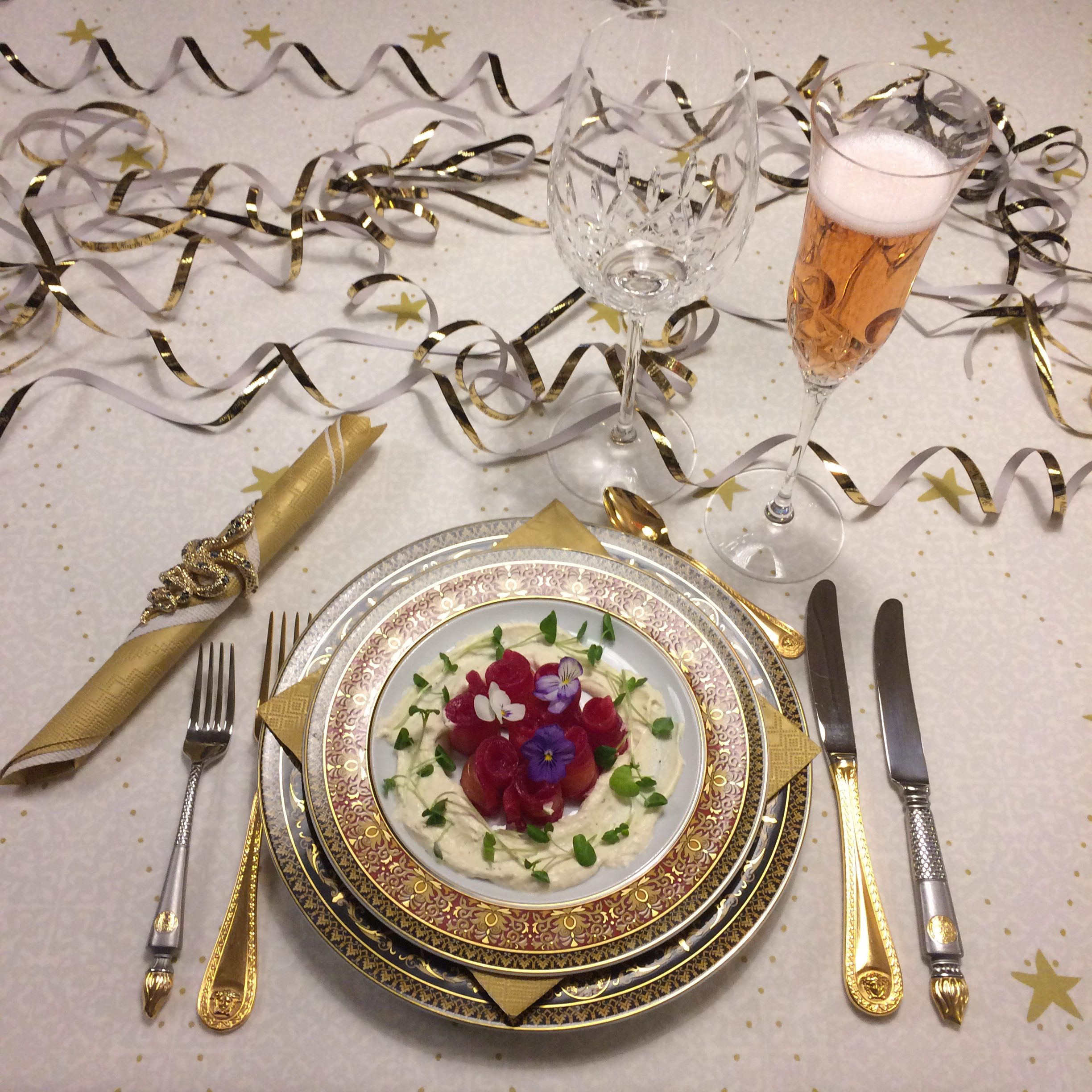 Since this is my own composition, I have chosen to name this dish after the empress, Joséphine of France.
Beetroot-gravlax
1/4 salmon without bones and skin
3 beetroots; roughly grated
3 tablespoons salt
1½ tablespoon cane sugar
2 tablespoons grounded, white pepper
2 bundles of dill
Finely grated peel from 1 lemon
Celery purée with horseradish
250 g celery root
2,5 dl whole milk
1 freshly grated horseradish to taste and strength
Salt
Pepper
Decorations
Pansy flowers (edible flowers)
Watercress
48 hours before serving
Arrange the salmon in a deep dish, which can fit in the fridge.
Spread salt and cane sugar evenly.
Then spread the grated beetroot, and the dill.
Lastly, distribute the grated lemon peel.
Cover the fish with clingfilm; and put something on top for pressure.
The fish will release some liquid during this process.
Day of serving
Cleanse the salmon thoroughly for all the filling; and dab the salmon dry – for instance with kitchen roll.
Cut the salmon in thin slices; roll the slices one by one. Then cut them in halves; and let them stand vertically as half rolls.
Cut the celery root in large pieces.
The celery root and the horseradish are boiled in whole milk, until the vegetables are tender. Puree the vegetables with some of the warm milk, until it reaches a suitable thickness – a bit fat and creamy.
Add salt and pepper to taste.
Cool off the purée.
Arrange the salmon rolls in a circle on a plate with the purée in a thing circle around the edge.
Decorate with flowers and watercress.
Da det er min egen komposition, har jeg valgt at opkalde opskriften efter kejserinde Joséphine af Frankrig.
Rødbedegravad laks
1/4 laks uden ben og skind
3 rødbeder, groft revet
3 ss salt
1½ ss rørsukker
2 ss stødt hvid peber
2 bundter dild
Fintrevet citronskal fra 1 citron
Selleripuré med peberrod
250 g rodselleri
2,5 dl sødmælk
1 stykke friskrevet peberrod efter smag/styrke
Salt
Peber
Pynt
Stedmoderblomster (spiselige blomster)
Brøndkarse
48 timer før servering
Læg laksen i et dybt fad, som kan være i køleskabet.
Fordel salt og rørsukker jævnt, herefter den revne rødbede samt dild.
Til sidst fordeles revet citronskal.
Dæk fisken med husholdningsfilm, og læg fisken under pres.
Fisken vil afgive en del væde under processen.
På serveringsdagen
Rens laksestykkerne for alt fyldet, og dup laksestykkerne grundigt af med køkkenrulle.
Skær laksen i tyndeskiver, rul den sammen og halvér rullerne, så de kan stå som halve ruller.
Selleri skæres i store stykker.
Selleristykker og revet peberrod koges møre i sødmælk og pureres med lidt af den varme mælk til en passende tykkelse, gerne lidt fed og cremet.
Smag til med salt og lidt peber.
Afkøl cremen.
Anret lakserullerne i en cirkel på en tallerken med creme i en tynd ring i kanten.
Pynt med blomster og brøndkarse.