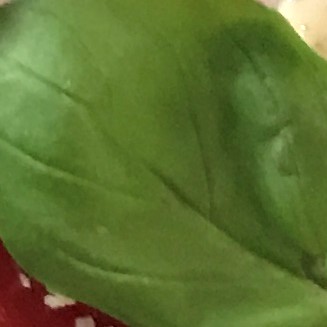 1 garlic clove
100 g pine nuts
Juice from ½ lemon
75 g grated parmesan cheese
1 large bundle of fresh basil
Salt
Pepper
Olive oil
Roast the pine nuts on a frying pan.
Mix the ingredients in a blender, until the mixture is completely smooth.
Pour the pesto into a scalded jar; and pour a top layer of olive oil on top of it.
1 fed hvidløg
100 g pinjekerner
Saften af ½ citron
75 g revet parmesan
Stor buket frisk basilikum
Salt
Peber
Olivenolie
Rist pinjekernerne på en pande.
Ingredienserne blandes i en blender og køres, indtil blandingen er helt fin.
Pestoen hældes på skoldede glas og
overhældes med et toplag af olie