Duck Wellington / Duck Wellington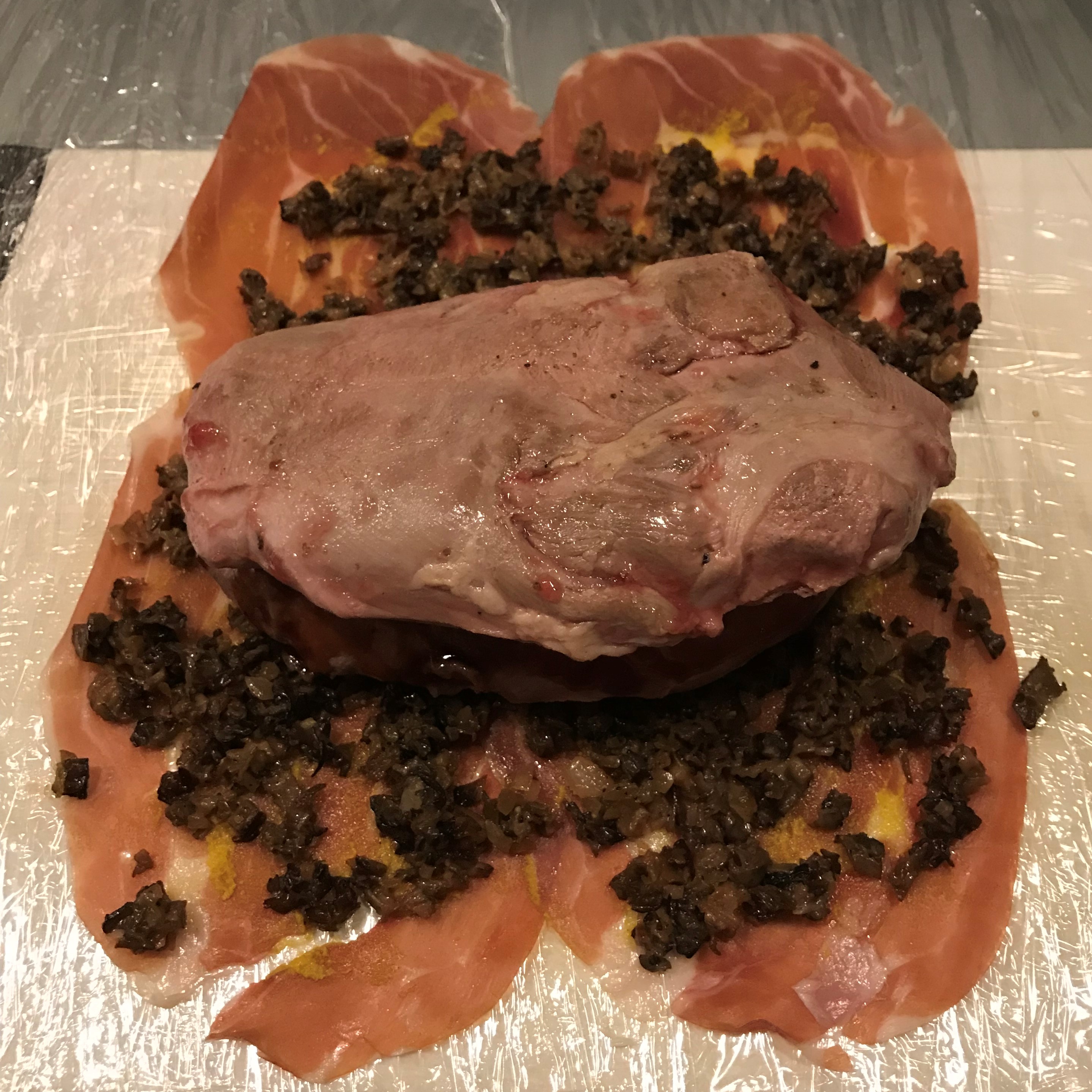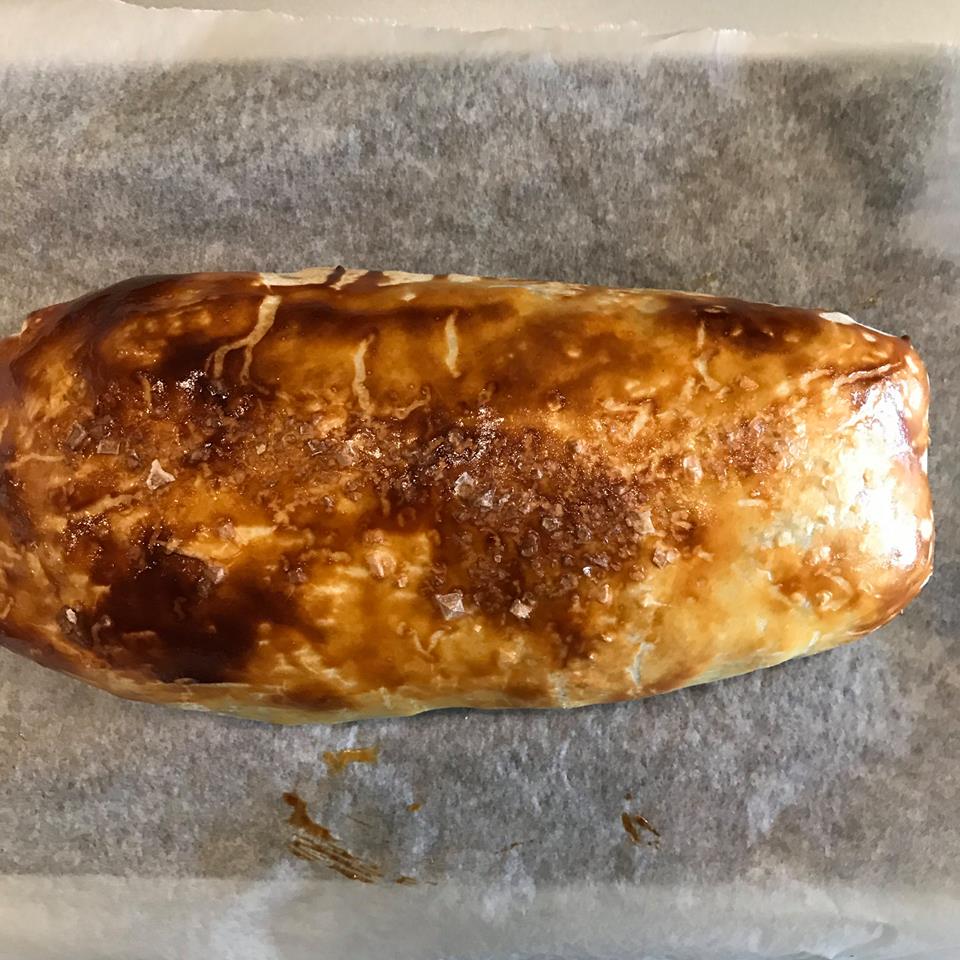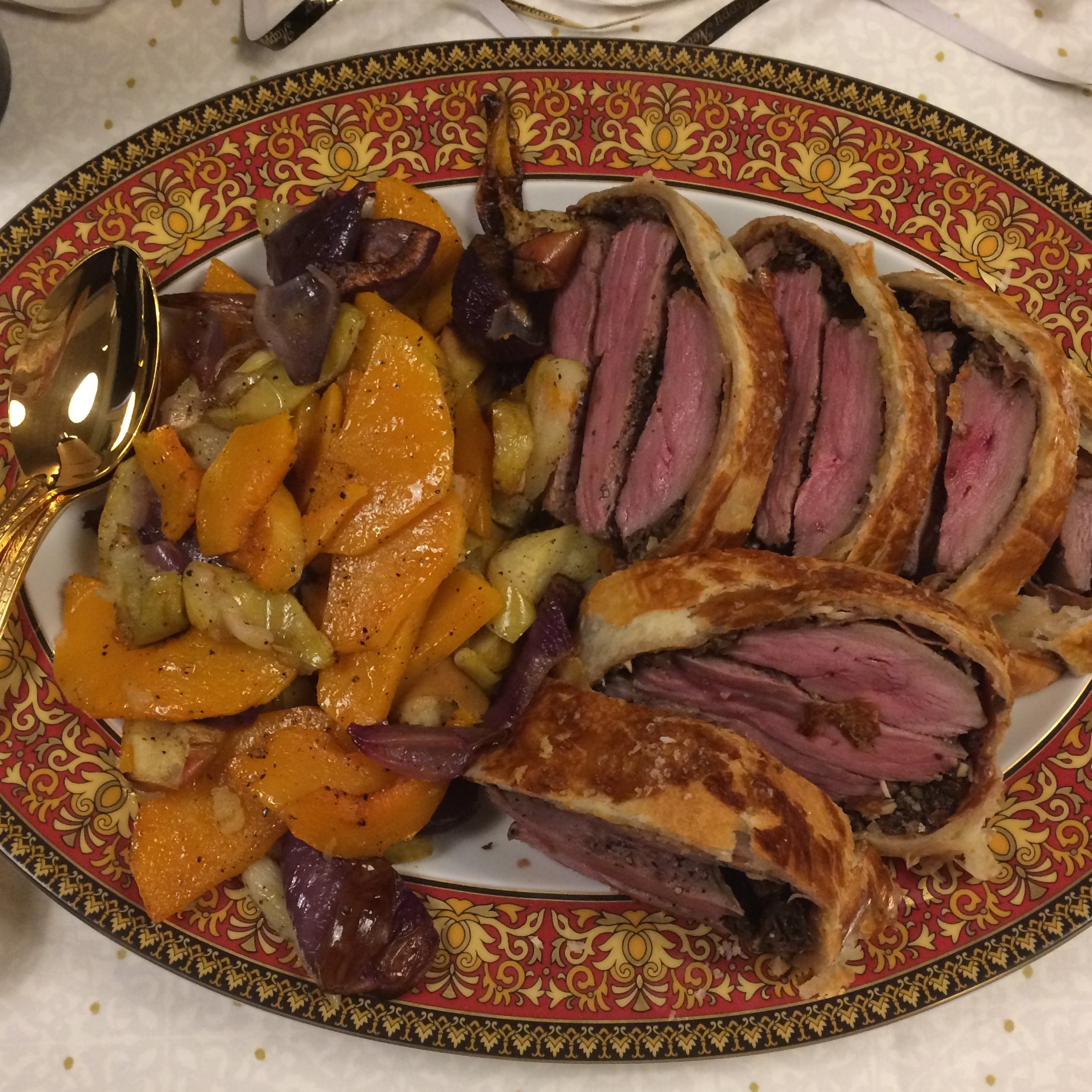 1 puff pastry roll or 2 plates
2 breasts from berberi duck
1 packet of Parma ham
60 g morels
1 tablespoon mustard
1 egg yolk
Flaked salt
Salt
Pepper
1 ss smør
Vacumize the duck breast; and cook it sous vide for 5 hours at 62°C.
Let the morels soak in water for 30 minutes.
Place pieces of clingfilm next to eachother; place the ham on it, and glaze the ham with mustard.
Cut the morels into small pieces, and spred them over the ham.
Arrange the duck, which has now cooled off, on top of the compote. Roll it all firmly together in the clingfilm.
Put the roll in the fridge for 1 hour.
Roll out the puff pastry.
Unpack the meat from the clingfilm. Remember: Preserve the shape of the roll.
Pack the puff pastry around the roll.
Scratch the surface lightly, glaze with egg yolk; and sprinkle with flaked salt.
Bake it in a hot-air oven at 200°C, until the puff pastry is brown and crispy.
1 rulle butterdej eller 2 plader
2 stk berberiandebryster
1 pakke parmaskinke
60 g morkler
1 ss sennep
1 æggeblomme
Flagesalt
Salt
Peber
1 ss smør
Vakumér andebrysterne, og kog dem sous vide i 5 timer ved 62°C.
Morklerne sættes i blød i ½ time.
Stykker af husholdningsfilm lægges sammen, skinken placeres på dette og pensles med sennep.
Morklerne skæres i små stykker og fordeles på skinken.
Kødet, som nu er afkølet, anrettes oven på kompotten, og det hele rulles hårdt sammen i husholdningsfilmen.
Rullen skal stå i køleskabet i mindst 1 time.
Butterdejen udrulles.
Kødet udpakkes fra husholdningsfilmen. Husk, at det stadig skal have form som en rulle.
Rullen pakkes i butterdejen.
Overfladen ridses let, pensles med æggeblomme og drysses med lidt flagesalt.
Bages i oven ved 200°C varmluftsovn, indtil butterdejen er brun og sprød.